Y hoy cambiando un poco de rollo:

Dave Parasite Presents: Pop Punk's Not Dead


A wide variety of pop-punk bands from all around the world including the United States, Germany, Japan, Australia, UK, Italy, and the Cayman Islands. These bands were assembled by Dave Parasite and feature some bands you may have heard before (Squirtgun, The Queers, and The Parasites) and some you may not have (The Spazzys, Janez Detd, and The Wimpy's).


This compilation features great songs by the heavyweights of the disc (The Queers, Squirtgun, Parasites, River City High) and a slew of good up and coming acts (The Ergs!, The Unlovables, Mach Pelican) and would serve as a good starting point for those looking to get into the older style of pop-punk. This collection of energetic, hook-laden pop punk anthems is enjoyable and sure to spark a few sing-a-longs, Packed with 30 tracks. Even if you are only interested in a few songs, I recommend picking this up to check out some of the newer talent in the pop-punk world.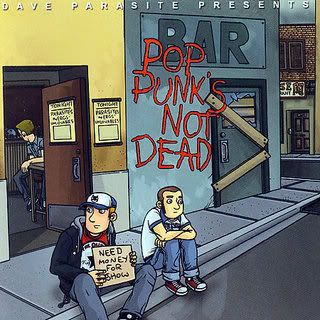 Album: Pop Punk's Not Dead (320 kbps)
Year: 2007
Label: Go Kart Records


Track Listing:

1. Teenage Bottlerocket - So Cool
2. The Scissors - 24
3. The Manges - Another Day
4. The Unlovables - I've Cried 4 U
5. The Ergs - Aja
6. The Queers - Definitely
7. The Unknown - Seven
8. Suckerbox - Wrong
9. The Last Chucks - Do You Ever
10. Backseat Virgins - Can't Take It
11. Squirtgun - Model Builder
12. Mach Pelican - Spend My Time
13. The Leftovers - Camel
14. The Dazes - You Really Got Me Now
15. Delay - Jumpstart My Heart
16. The Copyrights - Stuck In Springtime
17. Five Os - Last Summer
18. Janez Detd - Anti Anthem
19. River City High - Amy
20. The Spazzys - Hey Hey Baby
21. Boris The Sprinkler - Buying Beer For Junior High Students
22. Sonic Dolls - In Case You Are Unaware
23. The Peabodys - It Only Hurts When I Think
24. Guff - Change
25. The Spinoffs - Dynamite Girl
26. The Steinways - I Wanna Kiss You (On The Lips)
27. Bambix - Little Less Drunk
28. The Wimpy's - Just Right Thing In Summer
29. Travoltas - Can't Stop
30. Parasites - When I'm Here With You

V A - Pop Punk's Not Dead -2007

VA_-_Pop_Punk_s_Not_Dead.part1

VA_-_Pop_Punk_s_Not_Dead.part2