De nuevo gracias a Antonio podemos disfrutar de este pedazo de disco
Again thanks to Antonio can enjoy this piece of disc

GUANA BATZ
#Feltham, UIK#

Genre: Psychobilly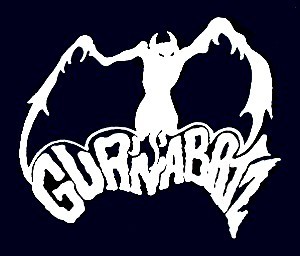 "BATZ FANZ HAVE MORE FUN"
Band Members
:
Pip Hancox
- Vocals
Jonny Bowler
- Bass
Stuart Osbourne
- Guitar
John Buck
- Drums
Gino Meregillano
- Guitar (U.S.)
Alex Pappas- Drums
(U.S.)
The Guana Batz were part of a British wave of psychobilly that sprang up in the early '80s, around the same time that bands like the Cramps were gaining underground prominence in America, and more straightforward rockabilly revivalists like the Stray Cats and the Polecats were hitting the charts on both sides of the Atlantic. The group was formed in the English town of Feltham, in Middlesex, in 1982, with a lineup featuring vocalist Pip Hancox, guitarist Stuart Osbourne, bassist Mick White (also of the similar Meteors), and drummer Dave Turner; White, an electric bassist, was soon replaced by stand-up acoustic player Sam Sardi. Playing hopped-up rockabilly with the speed and aggression of punk rock, the Guana Batz fit nicely into the British psychobilly scene epitomized by the Meteors, the Stingrays, and other bands who played at the good-naturedly rough Klub Foot in London. As such, the Batz landed a deal relatively quickly, releasing their debut EP, You're So Fine, on Big Beat Records by the end of 1983. An appearance on the Stompin' at the Klub Foot compilation netted them a better deal with ABC/ID, which released their full-length debut, Held Down...At Last! (aka Held Down to Vinyl...At Last!), in 1985, which shot straight to the top of the UK's independent charts. A follow-up, Loan Sharks, appeared a year later, and proved an even bigger underground hit (at least in the U.K.) than its predecessor. Live over London (recorded at the Klub Foot) followed in 1987, and Rough Edges continued the group's annual release schedule in 1988. Following that album, drummer Turner was replaced by Jonny Bowler, who debuted ..ra Glide in Blue (recorded for new label World Service). While the band continued to tour the U.K. and Europe (with new bassist Mark Pennington), their initial recording career ended there, and they disbanded during the '90s. Hancox and Bowler both moved to California, where they settled and started families. The Guana Batz reunited in late 1996, however, and recorded their most recent self penned album, Powder Keg followed by the all-covers album Undercover the following year. The compilation Can't Take the Pressure was released in 2000, with a competing best-of, The Very Best of the Guana Batz, appearing in 2001.The band continues to headline major festivals around the world with their always energetic and entertaining live shows and have most recently began to build their US following with their stateside line up featuring Gino Meregillano on guitar and Alex Pappas on drums.A new album is in the works and the band continue to prove their status as a major force in the recent second wave of the high energy,fun psychobilly scene that continues to grow.

~ Steve Huey, All Music Guide
Guana Batz - Stomping At The Klub Foot (Live over London)
(-2004 [mp3-320kbps]
1. Can't Take The Pressure
2. Rocking In The Graveyard
3. My Way
4. Live For The Day
5. Rocky Road Blues
6. See Through
7. Loan Sharks
8. Baby Blue Eyes
9. I'm On Fire
10. Dynamite
11. Rock This Town
12. Endless Sleep
13. King Rat
14. Shake Your Money Maker
15. Joe 90
16. Train Keep A Rolling
17. Please Gimme Something
18. Devils Guitar
19. You're So Fine
20. No Particular Place To Go
21. The Cave (Vol. 4 Out-take)

http://rapidshare.com/files/138761031/Guana_Batz_-_Live_Over_London_-1993.rar
Mirror:
http://rapidshare.com/files/138414595/Guana_Batz_-_2004_-_Stomping_at_the_Klub_Foot.rar.html
From the mid to late 80s The Klub Foot was Britain's most famous Psychobilly club and was to be found in the Clarenden Hall, Hammersmith, London. Tracks include: Batmobile - 'Bamboo Land', Valiants - 'Crash The Party', 'Pharaohs - 'Dead To The World, Sarnos - 'Beast', Guana Batz - 'Baby Blue Eyes' and many more.
http://guanabatz.com/
http://www.myspace.com/guanabatz