THE TEXAS DRAG QUEEN MASSACRE
#Bournemouth, UK#

Genre: Horrorpunk




Band Members:



Al. B. Damned - Vo-Kills
He's the tattoo covered, make-up smothered freak of the family that leads this horde of evil fiends. From his dark, smokey coffin he will always rise for the occasion. His ghoulish vocals and haunting whispers will send shivers up your spine and piss down your leg.




Spazm - Spinal Chords
A creepy addition to and even creepier band. This spinal chord strummer has a love for fire-arms and always has his sights set on his target audience. The devil may have rejected him but TDQM has welcomed this shredding legend with open gun-fire.




Fangz - Crypt Riffs
He's the crypt riffing, glue sniffing necrophiliac that loves to skate, hate and masturbate all at the same time. This guitarist really does suck, but he says it's the only way to drain blood these days. He's only been with us a short time but we get on like bats of a feather.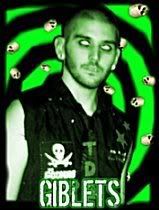 Giblets - Bass Rape
This ghoul is tall, dark and creepy. He doesn't say much but he's the silent type that always turns out to be the killer in the teen slasher movies. Not only does he provide the band with his bass rape capabilities but he also makes a great alcohol disposal unit.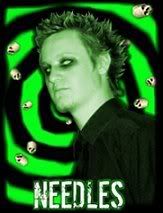 Needles - Dead Beats
He's the hard hitting, tabacco spitting dead beat extraordinaire. This ghoul is the life and death of the party. He'll leave you hanging and dying for more. The latest member to join the TDQM freak show and he's definately here to slay.


Sounds Like:

Wednesday 13, Frankenstein Drag Queens From Planet 13
Influences:

bit obviuos right?
In 2004 The Texas Drag Queen Massacre was born from cheap ass horror movies and shock rock music. The soul purpose of the band, to rot the minds of rebellious teens and horror fans alike with some goregasmic skele-tunes. They are the horror shock rockers from the UK that put the fun back into funeral. With their mixture of tongue in cheek lyrics, rocking riffs and horrifying, blood-soaked stage shows, TDQM have captured the hearts (literally) of millions of fans worldwide.

These make-up smothered, tattoo covered freaks of the family have proven themselves time and time again to be determined and hard-working souls, selling their second album "His And Hearse" to fourteen different countries, appearing on Californian radio, having over a million visits on their website and over 46,000 listens on their myspace profile. TDQM have also toured the UK and played with bands such as Trash Light Vision, Wednesday 13, Zombina And The Skeletones and goth punk legends The Damned.

Their stage show features a six foot long coffin, body parts of all shapes and sizes and more blood than the local Red Cross. These ghouls sure know how to put on one hell of a show and aren't shy about meeting their many fans. This ghoulish mob will take you on an amazing journey with hints of Alice Cooper, Wednesday 13, Marilyn Manson and The Misfits, all in the back of a long, black hearse.

The band are currently promoting their brand new album "Skele-Tunes" and gigging with their revamped line-up...



The Texas Drag Queen Massacre - Night Of The Living Dead Girls

-2006 [.wma-192kbps]
01. Dead Girls
02. See You In Hell
03. Here Lies Mother
04. Dying To Be With You
05. Pet Sematary
The_Texas_Drag_Queen_Massacre_-_Night_Of_The_Living_Dead_Girls
http://www.texasdragqueenmassacre.com/
http://www.myspace.com/tdqm