SCUM RATS #Hell, Germany#

Genre: Psychobilly





The Scum Rats were a German Psychobilly band during the 1980's.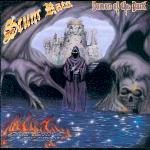 Scum Rats - Demon Of The Dark
1.Intro 2.Come with me to my world 3.Demon eyes 4.Devil in disguise 5.Red hot motorbike 6.Demon of the dark 7.Without you 8.My way of rock'n'roll 9.Bad moon rise 10.Scum Rats babe 11.Guilty 'till I'm 21 12.Believe it's your end 13.On the beach 14.Too hot.
Scum_Rats_-_Demon_Of_The_Dark.rar

This was their first album, and also the first release from Rumble Records.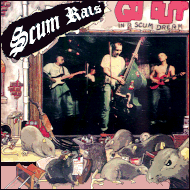 Scum Rats - Go Out In A Scum Dream
1.Scum rats 2.Go out 3.Scum of the night 4.I love rock'n'roll 5.Money 6.Runaway 7.Die to be free 8.My baby is alone 9.Come on little sister 10.Scum love 11.Cryin to be satisfied 12.Let me be bad
Scum_Rats_-_Go_Out_In_A_Scum_Dream.rar

"Brilliant!! Why don't more people like these guys??? Over here in America, nobody has ever heard of these psychos! I now have everything that I know of that they released, and this in my opinion is the best, although 'Let Me Be Bad' is a close second. The cover of the record is a little lacking, it's just a really bad picture of the band playing with really badly drawn rats rumaging through some trash, but oh well, the music more than makes up for it. The only way I can think to describe these guys is like... take Sparky from DAG, and put him in the Nekromantix, but make their songs not about monsters and ghouls and stuff, but about beating people up and girls and stuff. I don't know if others agree with me on this one, but that is my idea of great music!! The band is full of good musicians, and I think that the songs are just perfect, except.... they cover Del Shannon's 'Runaway'. The music is great, but the guitar player sings this one, and his voice is just awful! But all in all, if you can find this record, get it for sure!! It's a friggin classic!" Grim Johnny at www.psychobilly-online.de

http://www.myspace.com/scumrats