Another Nekroman colaboration, thanks so much


THE ASTRO ZOMBIES #France#

Genre: Psychobilly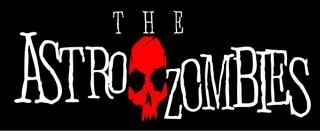 Band Members : Bob Zombie : Voice and Guitar, Fanty : Slap bass, Gaybeul : Drums.
Influences : Meteors, Psychobilly, Punk rock, Rockabilly and ska bands .

Since 1996, The Astro Zombies have made more than 200 gigs all over Europe. From Poland to England, Finland to Spain, the french trio have rocked all kind of venues and clubs, playing their own psychobilly style inspired from hell. The first record of the band is an EP with an old school Psychobilly sound which made the band go forward.

The first album "Astro Zombies are coming..." was recorded " In Heaven " at Paul Fenech's home studio (Swindon UK) in 1998. This young and fresh first production made the band known by all the Psycho scene and opened the gate of evil Rock and Roll. With songs like "I'm alright", "Barcelona", "Manson family"or the fabulous instrumental "Usual Suspect", the band is now ready to hit the road.

In 2000, the band record a second album called "Control your minds" on Crazy love Record which is avalaible on LP or CD, meanwhile Guido Neuman decide to repress the first one on LP. This second album shows that the band has grown up and songs like "Jeckyll and Hyde", "Lil'Henry", "Scene of the crime" or "Leather and Pain" are much more melodic and confirm that the band's gonna be soon a true worth.

After several tours over Europe, the Zombies are now ready to conquer the whole world with their third album "Mutilate, Torture and Kill" recorded at Kaiser studio (Chagny F) which finally recognized the band as one of the top, not even in the Psychobilly style, but on the nowadays Rock and Roll scene. Songs like "666 racing" playing with a Motorhead style, or the version of "Plastic Passion" from the Cure, the pure psycho "Story of Bonnie and Clyde", the ballade "Psychos on the road" or the crazy "Terrifying Astro Zombies" (inspired from the movie of Ted V. Mickel), are indeed the best of The Astro Zombies ... waiting for the next.

The situation in 2003 is that the band has new slap bass player: "SEB". He's the slap bass player from the germano - french band "VOODOO DEVILS".



The Astro Zombies - Mutilate, Torture and Kill

Track listing:
Fort Chabrol ~ The Story Of Bonnie & Clyde ~ Social Life ~ You Are Shit ~ Devil Duckie ~ Plastic Passion ~ Bertha Lou ~ Screamers ~ Terrifying Astro Zombies ~ Psychos On The Road ~ 666 Racing ~ My Enemies Eyes ~ The Lute Number.

ed2k Link : Psychobilly - Astro-Zombies - Mutilitate, Torture And Kill.ace
Direct Download: http://www.megaupload.com/de/?d=4QILYMF5



http://www.theastrozombies.com/
http://www.myspace.com/zeastrozombies