El resto de la Discografia de Fanta podeis conseguirla en el blog de mi compinche mafioso

F.A.N.T.A. (aka FANTA)
#Sta Coloma De Gramanet, Barcelona -Spain#

Genre: Horrorpop/PopPunk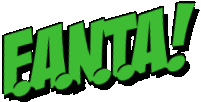 Band Members : Oscar: Guitarra y voz, Beto: Bateria y coros, Gabi: Bajo y coros.
Influences : Ramones, Groovie Ghoulies, Chixdiggit, Riverdales, The queers, The Manges, Travoltas, Buzzcocks, Undertones, The Clash, Dickies, Johnny thunders and Heartbreakers, The Cramps, Rezillos, Rizillos, Briefs,Turbonegro, Expulsados, Sonic Surf City, Barracudas, Surfin' lungs, Hard-ons,Gene Vincent, Elvis Costello, Vapors, Saicos, Sonics, Dr explosion, Thee Headcoatees, Nikki and the Corvettes, Ronettes, Shangri-las,The Nerves, The Beat, Los nikis, Acusicas, Vegetales, Baby Horror, DDT, Intronautas, Pegamoides..


F.A.N.T.A. se forma en 1999 en Barcelona cuando Noe (bajo), Beto (bateria) y Oscar (guitarra) se meten en un garaje y empiezan a hacer ruido imitando a los Ramones. Gracias a Juan de Pablos empiezan a a sonar en Flor de Pasion (RNE3) con su maqueta QUIERO SER TU JOHNNY RAMONE. En el año 2001 le seguirán tres demos mas: MI CHICA SALIÓ DE LA MORGUE, OPERACIÓN BIKINI y HE CREADO UN RAMONE. En el año 2002 se produce un cambio de formación, Noe F.A.N.T.A abandona el grupo y entra Gabi F.A.N.T.A., graban su última maqueta SOLO QUEDAMOS TU Y YO. Es en el 2003 cuando se publica su primer disco "VACACIONES EN MARTE", primera referencia del sello 'Música para Top' y producido por Joaquín Rodríguez, bajista de LOS NIKIS y actualmente de LOS ACUSICAS. Además cuenta con colaboraciones muy especiales como BABY HORROR o Nacho y Mauro Canut que les regalan una canción para el disco. En el año 2005 aparece su segundo album "NADA VOLVERÁ A SER COMO ANTES" tambien para el sello 'Música para Top' producido por Pelayo, miembro de DDT y que recibe muy buenas criticas. Aparecen tambien en el homenaje a LOS NIKIS "10 años en Sing Sing". En el 2006 tocan en varias zonas de la península y aparecen en discos recopilatorios como ¨Viva el Pop¨ del sello Subterfuge records y en el Bublegum World Compilation dónde aparecen junto a grupos como The Manges,Spazzys,The Brabecuties entre muchos otros!!! F.A.N.T.A. cuenta con un numeroso grupo de fans denominado FANTASUPPORTERS.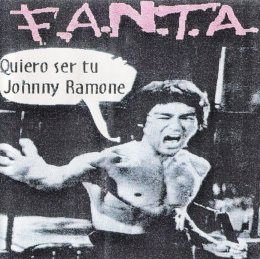 Fanta - Qu
iero Ser Tu Johnny Ramone
(2º Demo) -2000 [mp3-192kbps]
1. Mafia china
2. Tu marioneta
3. Quiero ser tu Johnny Ramone
4. Apalealo (Beat on the brat)
5. Sheena (no debiste marcharte)
http://rapidshare.com/files/124487123/FANTA_-_Quiero_Ser_Tu_Johnny__Ramone_-1__Demo_-1999.rar
Después de ofrecer sus primeros conciertos, F.A.N.T.A. vuelven con una segunda maqueta donde comienzan a utilizar el ordenador para grabar, aunque la batería sigue siendo de verdad. El sonido se endurece un poco y dejan de lado las melodías más pop que encontrábamos en "Tomás". Vuelven a grabar "Quiero ser tu Johnny Ramone" y versionean a los Ramones en "Apaléalo".
"Sheena", una "bonita" canción de amor, les sirve por esta época para cerrar sus conciertos.
Bruce Lee, además de en la portada, aparece en "Mafia China", nuestra favorita de esta maqueta. El "logo" sigue siendo el mismo.
Nunca sabremos el porqué de este recrudecimiento de su música (falta de creatividad, dudas sobre su sexualidad, una temporada en el infierno...), el caso es que, para nosotros, es lo peor que han grabado nunca... aún así, los seguimos queriendo.
F.A.N.T.A. nunca caminarás solo!!!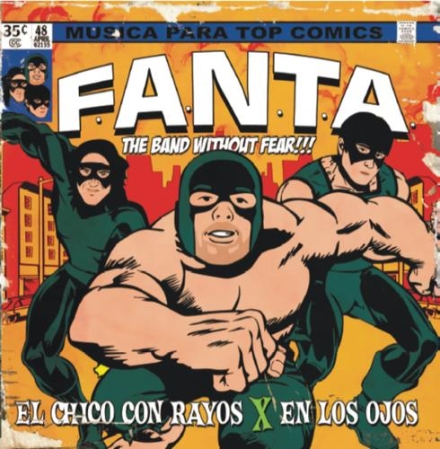 FANTA - El Chico Con Rayos X En Los Ojos
-2007 [mp3 192kbps]
01. Hechizo de amor
02. El chico con rayos X en los ojos
03. 10 años en Alaska
04. Marvel y DC
05. Adicto a tu fotolog
06. Moscu
07. Todo es por tu amor
08. Mi coche fúnebre
09. Cambio climático
10. No me asustes
11. 2084 planeta Tierra
12. Dime
13. Ya no quieres verme más
14. Lady Darkness
15. No lo volveré hacer
16. Iker Jimenez
17. Sólo quiero estar contigo

http://rapidshare.com/files/124478332/FANTA_-_El_Chico_Con_Rayos_X_En_Los_Ojos_-2007.rar
Tercer disco de estudio de este trío punk barcelonés de Santa Coloma de Gramanet. La fórmula de su música es la misma que usaron en "Vacaciones en Marte" (2003) y "nada volverá a ser como antes (2005) : canciones cortas de dos minutos con melodías pegadizas y estribillos totalmente imprescindibles.
En "El chico con rayos x en los ojos", nos encontramos con media hora punkpop con influencias de
Comics, Películas de Serie B, los Ramones, los Vegetales, Los Nikis, Alaska y los Pegamoides, Airbag, Expulsados, The Queers, Screeching Weasel, Green Day y Misfits. Ni más ni menos.


http://www.lamorguedefanta.tk/
http://www.myspace.com/morguedefanta