LUNA VEGAS #Tamworth, UK#

Genre: Old School Psychobilly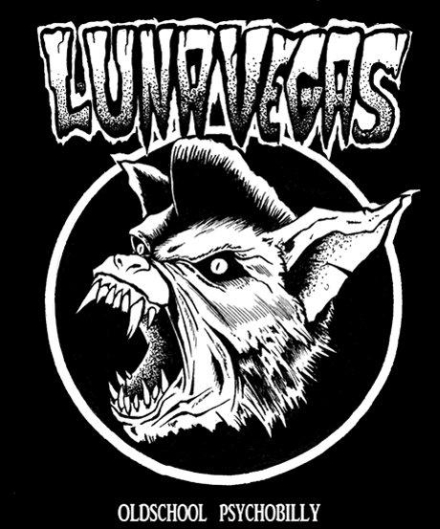 Band Members : Sick Nick - Double Bass, Daz Night - Guitar, Chris Ives - Drums

Luna Vegas formed after Nick Plant (bass) and Daz Night (guitar) got together at the end of 2004. They started reminiscing about old times when they used to play in a band called Stench, a psychobilly band from the late 1980's and early 1990's. Nick and Daz decided that they would start jamming again, so Daz went out and bought himself a new guitar and Nick bought himself a new double bass. They started jamming in Daz's lounge just for the enjoyment of playing music again, but they then decided to take it further and start a band. Phone calls were made to Rob Kinson (guitar) and Jim Goodman (drums), who were former members of The Mutant Zombies, a band that Nick and Daz had also played in back in 1986. Rob was still playing the guitar and was up for getting together again. Jim had hung up his sticks a long time ago but decided he was up for it, so he invested in a drum kit off Ebay and Luna Vegas were formed. In 2007 the decision was made to remain a three piece band. Some songs were dropped and in January Luna Vegas booked into The Western Star Recording Studio to record two tracks, Hellkat and Freddie Depthcharge. Hellkat was later released on a compilation album Psycho Killers. Impressed by the recordings and help from Alan Wilson, Luna Vegas new this would be the best place to record their first album. More recording sessions followed through the year. Luna Vegas then struck an album deal with Western Star Records. At the end of October 2007, Jim (Drums) departed from the band, but this void was soon filled by Chris Ives, the last drummer in Stench before it imploded in 1989. In November 2007, Psychobilly and Rockabilly Mayhem was released, a promo video of Western Star, featuring Luna Vegas.




Luna Vegas - Strange Men Weird Women -2008 [mp3 320kbps Inc. Covers]
1. Psycho Hellcat
2. Freddie Depth-Charge
3. Vega Rider
4. The Wood
5. Haunted Train
6. Willow Man
7. Jeanie Jax
8. Mr Shroom
9. Jack Black
10. Johnny Shine
11. Swamp Surf
12. Sixth Sense
13. Demon Sitter
http://rapidshare.com/files/104276639/Luna_Vegas_-_Strange_Men_Weird_Women_-2008.rar


http://lunavegas.co.uk/
http://www.myspace.com/lunavegas