MILWAUKEE WILDMEN #Holland#

Genre: Psychobilly / Eclectic mix of Rockabilly, Metal and Punkrock Shook



"PSYCHO TO THE BONE INCORPORATED"

Band Members : Spineless: guitar and lead vox Hitman: drums and back vox Ralph69: double bass and back vox
Sounds Like : eclectic mix of Rockabilly, Metal and Punkrock: psycho street punk rawk&roll

Worldwide being well recognised as a dynamic live act ("best live band in Holland behind Peter Pan Speedrock" -LiveXS magazine), redefining Psychobilly is what these Wildmen from Holland have been up to from the day they stood up. Officially founded in the year 1989, the band turned into Milwaukee Wildmen in 1994. Their eclectic mix of Rockabilly, Metal and Punkrock shook up the scene with a blast. Never giving in and just keep on going, not compromising to the rules of any scene, only lead by a pure drive for rawk and roll. Fact is that these proclaimed founders of New School Psychobilly terrorize the stage with such an impact that precautions have to be taken in order to lower the risk factor for casualties and other collateral damage. Throughout the years MWM worldwide released 5 full-length albums and a compilation album on vinyl called "To the Bone.." Their latest album Strike Back is released winter 2006. Up until now Milwaukee Wildmen has been sharing bills, flyers and stages all over Europe & US with bands/artists like Ice-T, The Bones, US Bombs, Pennywise, The Meteors, Flogging Molly, PPS, Batmobile, Mad Sin, Last Resort, Nekromantix and many more. The Wildmen's massive shoutalong repertoire impales your cranium forever leaving bloodmarks on the rest of your body. But don't fear! You're not alone!



Milwaukee Wildmen - Psychosomatic (2002)

01 - Three Men Army
02 - Psychosomatic
03 - Invisible Enemy
04 - Sneaking Into Hell
05 - Vulgar Teens
06 - Fornofilia
07 - Struck By Dopamine
08 - Get In The Pit
09 - Die For Me
10 - AK 47
11 - Must Be The Dope
12 - All By Herself
13 - The Hell You`re Raising

Direct Download : http://www.megaupload.com/?d=D5WFI8KX




Milwaukee Wildmen - Hard Times

1. Bifemale
2. MWM
3. Fading Away
4. Hunger For Last
5. Look That I`ve Got
6. Blackleather Clown
7. Trip To Hell
8. Let`s Lynch
9. Work All Night
10. On My Own 96
11. Call Me Tarzan
12. Pullman Affaire
13. Say
14. Silicon Beach
15. Limbless Love

Direct Download : http://www.megaupload.com/?d=81OOBV0L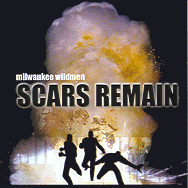 Milwaukee Wildmen - Scars Remain (2000)

Tracklist:
01 - Wildmen Swamp
02 - Nineteen Eighty Nine
03 - Favorite Dish
04 - Get Drunk, Start a Fight
05 - March
06 - Teenage Sluts
07 - Scars Remain
08 - So Alone
09 - Speedball Aby
10 - You Fuck Me Up (The Meteors cover)
11 - Cry and Deny
12 - Wish

Direct Download : http://www.sendspace.com/file/j8ra8h





1.Feel Like Dying
2. Strike Back
3. Legal Age Countdown
4. Personal Demoms
5. Strictly Underground
6. Darkness In The Night
7. Eurotresh
8. Camouflage
9. Refuse To Loose
10. Slow Down

Direct Download : http://www.megaupload.com/ru/?d=5AOLNY9T



http://www.milwaukeewildmen.com/
http://www.myspace.com/milwaukeewildmen