OS CATALEPTICOS #Curitiba -Brazil.#

Genre: Psychobilly



"PSYCHOBILLY IS ALL AROUND!"

Band Members : Vlad = Guitarist, Lead Singer, Gus = Upright Bass, Cox = Drums
Sounds Like : Power Psychobilly!!!

Os Catalepticos come up with real 100 miles per hour mental psycho - it's well produced and played, and will leave you breathless!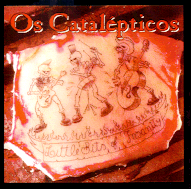 Os Catalepticos - Little Bits of Insanity -1998

1.Cannibal holocaust
2.Gambling with a demon
3.Serial Joe
4.Closing my coffin
5.Henry
6.Asshole
7.Atomic zombie
8.Hell driver
9.Catalepsia
10.Demented symptoms
11.Run free from the nightmare
12.Death train
13.Psychobilly is all around
Direct Download : http://rapidshare.com/files/27122965/oc_insane.rar.html
Password: gmd.dl.am

Os Catalepticos
Mental psycho from Brazil!
Os Catalépticos
have been the only Brazilian band to adopt the most aggressive side of Psychobilly, called by some: 'Power Psychobilly'. They are a power trio that plays on the limit of speed, utilising the basic instrumental simplicity of Rockabilly, like the simplified drum kit and the acoustic upright bass, coming together with a constantly distorted guitar. This formula results in an extremely fast and violent sound, where they emit insane screams that approach the macabre, revealing the terror in all its aspects.
Os Catalépticos was born in June 1996 in the south of Brazil, more precisely in the city of Curitiba, where the Brazilian Psychobilly developed more than in the rest of Brazil. In this city began some of the oldest Brazilian bands (Missionários and Os Cervejas) which formed the basis of the whole local psycho scene in the 80's.
Since their initial line-up only there has been only one change, the original drummer, Marcio Tadeu, being replaced by Coxinha, joining the existing members Vlad (guitar/vocals) and Gus Tomb (Coffin-Bass). After the formation of the band, they waited one whole year without a concert, only rehearsing. Only in September of 1997 did they start with an appearance on the most important Brazilian Psychobilly festival - the 4th Psychobilly Fest. After their debut they played all of the possible places in their region in record time. During that same year, they signed a contract to participate on the biggest Psychobilly festival in the world, on the 10th Big Rumble, in England, where they played on the same stage with bands like The Meteors, Guana Batz, Frenzy, Long Tall Texans, Restless, Los Gatos Locos and more.
Their participation in this festival gave them the opportunity to have an offer from the English label, Fury Records, to be on two compilations (Rumble Party Vol.6 and The Best of Fury Psychobilly), and thereafter their first solo CD. When they returned to Brazil, they spent January and February in the studio. In March of 1998 they completed their first CD, with thirteen songs, called Little Bits of Insanity, which, when released in England, stayed for seven months in the top three of the Nervous Records chart. As a result of this success, they returned to Europe in 1998, when the band was again in the line-up of the 11th Big Rumble.
"We have Os Catalépticos screaming in the background even as we write this. We've played them quite often since we picked up the CD - thank you for the great recommendation and for getting it to us in your usual prompt, efficient style! We think they rock- even if this lead singer is a bit of a growler!"
W. I. (USA)
"Imagine the immense weight of Rosie O'Donnel's bloated carcass stuffed inside an elephant's anus and transported to Jupiter, a planet where gravity is 2.5 times our own - and that would still not as heavy as this ripping album by Os Catalépticos. I don't know much about Brazil, but there must some sort of viral strain in the air that produces intense bands such as Kaes Vadius, Ratos De Porao, and the many others. Os Catalépticos is no exception to this rule, with a sound like early Slayer enhanced with some of the most insane upright bass slappin' on the market. Gambling with a Demon is hands down my favorite song on here, but then every song makes you want to destroy the innocent and tear down the monuments of the mighty with your clenched fists."
BL - Rock'n'roll Purgatory


http://www.revmweb.com/catalepticos/
http://www.myspace.com/oscatalepticos