EAT SKULL #USA#

Genre: Horrorpunk/Garage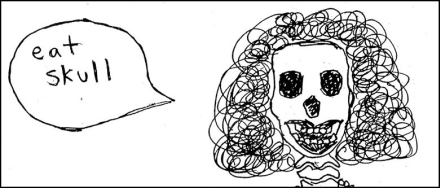 It's rare for a band less than two years young to surprise with their debut album, but that's just what Eat Skull have done with
Sick to Death
, released this month on Siltbreeze Records. After a pair of exuberant, limited-run singles and a slathering of praise (guilty!), the gang in Portland raised the bar for the lo-fi pop set with an album full of bizarre, touching and often hilarious anthems. Eat Skull pick at the corpse of '80s hardcore, the scruffier wing of the Flying Nun discography and British DIY, laughing all the way.
Sick to Death
is immediately jarring and a tough cookie to crack, but after a week it will be that friend you've needed in these tough times. I caught up with singer/guitarist Rob Enbom as he gears up for their first nationwide tour later this Summer.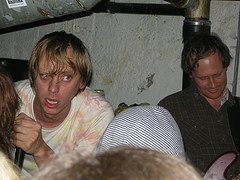 I think that fellow Willamette Week writer Erik Bader put it best: "You don't just wake up and say, 'Let's do a band that sounds like Eat Skull.' No, you wake up and you're in Eat Skull."
And that's because there's really nothing all that contrived about Eat Skull's music. It's garage pop buried beneath the rusty motor of an old lawnmower that may or may not have been used to hack up a family. It's distorted, ancestral drums and carousel keys call to mind the eeriest of David Lynch. Like Eraserhead meets the Kinks. It roars. It reels. It rocks.
"Dead Families" is no exception. The shotty, late-start drums and carnivalesque key progression quickly foray into Jesus and Mary space, shortly trailed by a killer dance interlude that crosses the finish line at 4 minutes and 43 seconds. What's more, we hear these guys put on a legendary live show. What more do you want, Portland?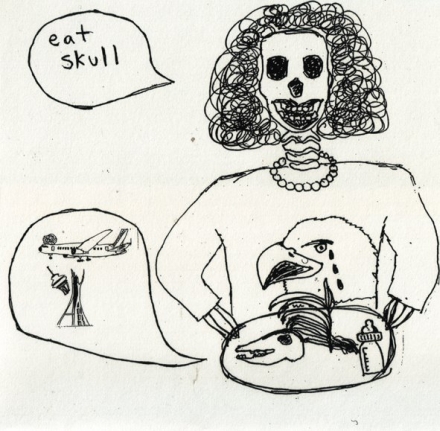 Eat Skull - Dead Families
(7'') -2008 [mp3 192kbps]
Side One
A1 Dead Families
Side Two
B1 If I'm Insane
B2 No Intelligence
http://rapidshare.com/files/141657738/Eat_Skull_-_Dead_Families__7____-2008.rar
Scrambling ensued to snag a copy of the brand new Skulltones 7", "Dead Families", as I missed their batch of surely incredible SXSW shows, because, like, I wasn't at SXSW. But I heard it was enjoyable. The edition of 300 sold out immediately, as is typical these days when great bands release hugely limited shit. Word on the street in anticipation for this record was that it would be better than their perfect debut and damn if it isn't just as good. All three tracks are round pegs for square holes but still make great mixtape material. The A-side tumbles out of the gate much like "Seeing Things" did, like those dead family members stuffed in the closet, with swirls of LOUD, off-kilter organ, and a bunch of scratchy guitar jangle and drum clatter, eventually settling into a second-half groove that cleans up the mess a bit. Still a little bit of blood on the floor, but everyone is safe. The B-side has a cover whose name escapes me right now, because I have the third song, "No Intelligence" lodged in my head. Is this song about Columbus? Hah. Hope not. It burns a little bit slower than their other jams, which tells me the upcoming LP on Siltbreeze will be a well-balanced meal of epic proportions. Can't wait. Go and listen to "Punk Trips" on their myspace and try not to wet your pants.
http://www.myspace.com/eatskull