He tenido un par de días liadillos y se me retrasan las cosas, pero aquí estoy de nuevo, esta vez con una banda del país que generosamente se brinda a compartir su trabajo con tod@s nosotr@s


NIKOTINA ASSESSINA #Salou, Tarragona -Spain#

Genre: Punkabilly/Psychobilly




"ALTA DOSIS DE ROCK'N'RAW"

Influences : Mad Sin, Misfits, Klingonz, Demented Are Go, Quakes, Johnny Cash, Krewmen, GBH, G.G. Allin, Makiavelix, la serie South Park y las peliculas porno casposas.
Sounds Like : Punkabilly/Psychobilly porcino, con algunas versiones entre otras de Demented Are Go, Quakes o G.G. Allin

NIKOTINASSESSINA Grupo de punkabilly/psychobilly nacido de un mono de nicotina y engendrados por Mercedes Milà como su nuevo invento contra el tabaco. Un dia el grupo consiguió escapar del siniestro laboratorio de Mercedes Milà arrasando con todo a su paso y pasando a formar una banda llamada Nikotin Assessina, THE TEENAGE MUTANT ROCK BAND. Rechazados de todos los bares y locales por su aspecto de adolescentes mutantes y deformes y por su su sonido macarril.
Nacidos en el 2006 inicialmente como grupo horrorpunk, kaspapunk, la formacion empieza con David & Aitor a la guitarra, Thomas a la bateria, Joe al bajo, y Mamon a las cuerdas vocales. Con el paso del tiempo el grupo le va cogiendo gusto al psychobilly y el enfoque de los temas tambien van cambiando hacia esa direccion, hasta el punto de plantear cambiar bajo por contrabajo. A mediados de 2007 Nikotina Assessina se despide de David a la guitarra a causa de su autismo musical, pasando a quedarse con un solo guitarra. En Enero de 2008 grabaron su primeros temas en estudio que pasarian a ser parte de la demo 'Recien salidos del laboratorio'. Practicas sexuales indecentes, asesinos en serie, y mucha caspa.

INGLIS XAPUZINS:
Born in 2006 firstly like a horrorpunk/freakpunk band, the teenage mutant band stats with David & Aitor playing the guitar, Thomas as the drummer, Joe as the bass player and Mamon as singer. They changed the style playing now a frantic psychobilly/punkabilly, changing the bass for a upright bass. In 2007 David lefts Nikotina Assessina. In january of 2008 they recorded his first songs in studio for the demo 'Recien salidos del laboratorio'.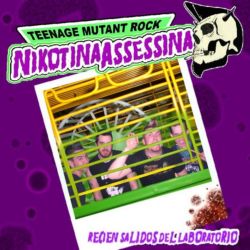 Nikotina Assessina - Recien Salidos Del Laboratorio (Demo) -2008
01 Ed Gein
02 Nekrofilia Accidental
03 Tarragona Toxica
04 Bite It You Scum
Nikotina_Assessina_-_Recien_Salidos_Del_Laboratorio__Demo__-2008.rar


http://www.nikotinassessina.blogspot.com/
http://www.myspace.com/nikotinaassessina