TIGHT FITTING PANTS
#Vendée, France#

Genre: Psychobilly/Punkabilly/Pornobilly?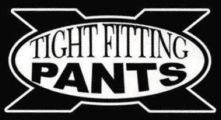 "PORN'N'ROLL"

Band Members : SIMON - Guitar & Lead Vocal, JULIEN - Double Bass & Backing Voice, GAETAN - Guitar & Backing Voice, NANAIL - Drums
Vienen desde Francia con disco nuevo bajo el brazo y una manera muy original de hacer psychobilly, realmente el disco suena a punk rock californiano muy bien hecho, con la particularidad de que tienen contrabajo, y ojo con esto no digo que el disco sea malo, porque con un par de escuchas te enganchas enseguida, porque gastan mucha melodía y muy bien hecha. El disco lo componen doce canciones dedicadas integramente al desamor, el porno y al sexo guarro, comenzando con "Love suck" un instrumental speedico bastante pegadizo, le sigue "p.p chick from Tokio..." un bombazo de punk rock en la onda de Queers pero con contrabajo, la canción es muy buena, "Britney´s Puss" le sigue la estela a la anterior en el mismo rollo, "Prostitute blues" recuerda a Screachin Weasel es increible lo pegadizas que son las canciones, "I wanna be a lesbian" es buenisimo muy ramonera nada que ver con el psycho, pero es que se agradece que en vez de tirar a sonidos mas metaleros como pasa desde hace años, se tiran a sonidos mas melodicos, aunque el billy brille por su ausencia. "Desperate Love" sigue en la linea Queers, "Let me be your pornostar" vuelven al sonido ramoniano y recuerda por momento a los Vandals, la verdad que todos los temas estan en la misma honda, asi que en resumen, si a parte del psycho y el rockin, te gusta el punk ramonero y melodico vas a alucinar con este disco, porque realmente es un buen disco de punkrock. (http://batattackmagazinereviews.blogspot.com/)

Tight Fitting Pants is a 4pieces fresh band of psychobilly playing since 2002.
Their music is fast, punky and melodic.

Since the beginning, they choose to speak about love and sex, instead of death and zombies as a proper psychobilly band.

Maybe because they wanted to create something new, or maybe because they're real perverts....

At the end of 2003 they recorded a first 4 titles demo "sex, booze and rock'n'roll". about 1000 copies have been sold.

Playing many shows (more than 150) in france and europe, Tight Fitting Pants found their own space in the psychobilly scene and decided to record a real album!

They recorded a full lenth album in 2005 "Obscene Music for Obscene People" launched in early 2006 at Crazylove Records.

2007 was a busy year for Tight Fitting Pants, because of the release of a new album "Love Sucks" at Crazylove Records and 2 gigs at the Hollywood Showdown.

Now they spread their "porn'n'roll" music around the world!

The new album "Love Sucks" is a kind of concept-album.

Every song is speaking about love (in fact about feelings, sex or porn) As usual Tight Fitting Pants is singing love stories using obscene lyrics and various jokes!

The idea is that every people can match his own story, fantasy and memories to a song or another, and that they keep smiling because of funny lyrics.

Musically speaking, "Love Sucks" is a good production.

12 funny songs, catchy, fast and melodic. a mix between punkrock and psychobilly.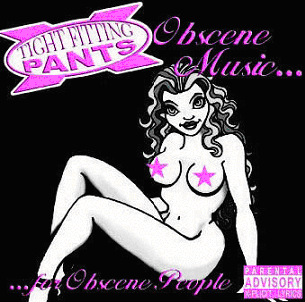 Tight Fitting Pants - Obscene Music ... For Obscene People -2006
1. Rock'n Roll Radio
2. I'm Not a Mess, I'm Just a Psycho
3. Sexy Family
4. Alien Chick
5. Hard Spank
6. Victor Newman is a Heartbreaker
7. Booze 666
8. Gang Bang Boom (Like a Sex Machine)
9. Rock-a-Billy Goat
10. Porno Queen
11. Teddy Beer
12. The Ballad of Johnny Trigger
Tight_Fitting_Pants_-_Obscene_Music_For_Obscene_People_-2006.rar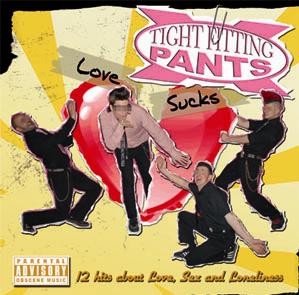 Tight Fitting Pants - Love Sucks -2007
01. Love Sucks
02. P. P. Chick From Tokyo
03. Britney's Puss
04. Prostitute Blues
05. I Wanna Be A) Lesbian
06. Desperate Love
07. Porno Star
08. Ayaya is a Girl
09. Love Doll Bop
10. A Night With Kelly Bundy
11. Erection/Masturbation/Ejaculation
12. French Lovers
Tight_Fitting_Pants_-_Love_Sucks.rar


http://www.myspace.com/tightfittingpants