AS DIABATZ #Curitiba, Parana -Brazil#

Genre: Psychobilly



"This is the Witches Stomp going on tonight..."

Band Members : Baby Rebbel - Guitar & Vocals, Claudia Smith - Upright Slap Bass, Clau Sweet Zombie - Stand up Drums & Backing Vocals
Influences : Psychobilly in general, Rockabilly, Rock and Roll, Garage, Country, etc...

No verão de 2006/07, três garotas do sul do Brasil notaram que já era hora de montar uma banda de garotas na cena psychobilly brasileira. Inspiradas pelas bandas classicas dos anos 80, elas começaram a fazer suas músicas simples e cruas, tentando transmitir essa doença que é o psychobilly.


In the summertime of 2006/07, three south brazilian girls have noticed that was the time for start a girl band in the Brazil's psychobilly scene. Inspired by the 80's classic psycho bands, they started to play their own simple & raw songs, willing to transmit this disease that psychobily is all about.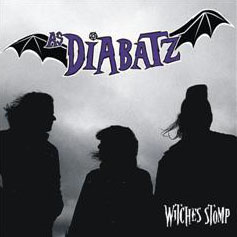 As Diabatz - Witches Stomp -2007 [mp3-128kbps]
01.Witches Stomp
02.Psychomad Mary
03.Summertime Booze
04.Wide Awake.
http://rapidshare.com/files/121679153/As_Diabatz_-_Witches_Stomp_-2007.rar.html