SEASON OF NIGHTMARES
#Seattle, Washington -USA#

Genre: Psychobilly





Band Members : Bill-Guitar/Lead Vocals, Nick-Upright Bass/Backing Vocals, Steve-Drums, Freddy "Rip" Taylor- Plays The Fabulous


Season of Nightmares (nicknamed SoN) is a Seattle-based psychobilly group.

Season of Nightmares is a dangerously original musical trio based out of Seattle, WA. These three terrible fellas joined together in 2003 to forge a vicious blend of driving punk and 50s rock n roll with a melancholy dash of pre-war jazz rhythm. Their songs radiate with the hard-boiled intensity of pulp crime lore while incorporating ghastly, paranormal undertones. They'll rock your brains into jelly and your bones into dust without leaving a fingerprint. Can ya dig it?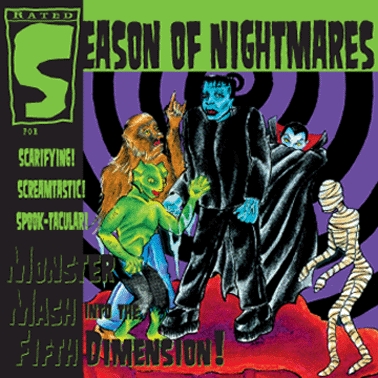 Season of Nightmares - Monster Mash Into The Fifth Dimension -2006 [mp3-320kbps Inc. Covers]
Vigilante Murder Trail
Silver Bullet
Undead Fever
The Gates Of Hell
Between The Eyes
Voodoo Queen
Your Money Or Your Life
Stabbed To Life
Sadistic Masochistic
My Name Is No One
Heartbreak From The Black Lagoon
Exhumed
London After Midnight
Watch The Skies.
Season_Of_Nightmares_-_Monster_Mash_Into_The_Fifth_Dimension_-2006.part1.rar
Season_Of_Nightmares_-_Monster_Mash_Into_The_Fifth_Dimension_-2006.part2.rar

http://www.myspace.com/seasonofnightmares