The call of Cthulhu
La LLamada de Cthulhu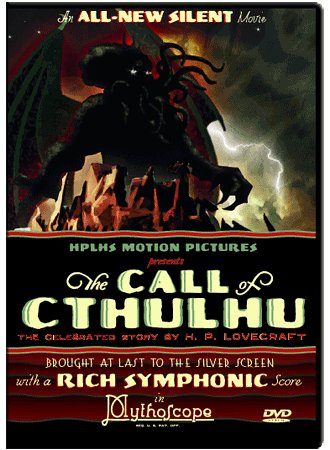 Título Original
: The call of Cthulhu
Dirección
: Andrew Leman
Guión
: Sean Branney (basado en un relato de H.P. Lovecraft)
Intérpretes
: Ramón Allen Jr., Leslie Baldwin, Daryl Ball, John Bolen, Aidan Branney, Sean Branney, Andra Carlson, Mike Dalager
Fotografía
: David Robertson
Música
: Chad Fifer, Ben Holbrook, Troy Sterling Nies, Nicholas Pavkovic
Año
: 2005
Género
: Terror
Duración
: 47 min.
Tamaño
: 303 MB
Cine Mudo con dialogos en ingles subtitulados en español

Silent Movie with dialogues in english



Sinopsis
:
Tras la muerte en extrañas circunstancias de un profesor de la Universidad de Miskatonik, se inicia una investigación que relaciona el caso con el tenebroso culto a un Dios acuático, cuyos seguidores le llaman Cthulhu.

El llamado de Cthulhu (2005) es un mediometraje producido por la H.P. Lovecraft Historical Society, que a pocos meses de estrenarse en el circuito de festivales de cine independiente de género, consiguió que la crítica especializada la considerara como la mejor adaptación lovecraftiana de todos los tiempos.

El rodaje usó modernas técnicas de grabacación y elementos vintage para reproducir la estética de los filmes de la década de 1920. Debido a que el film quería aparentar haber sido rodado realmente en esa época, se optó por que la película fuese muda. La música que acompaña las imágenes también está inspirada en los sonidos clásicos que ambientaban estas producciones.

At last, the stars are finally right...
The H.P. Lovecraft Historical Society presents its all new silent film of The Call of Cthulhu. The famed story is brought richly to life in the style of a classic 1920s silent movie, with a haunting original symphonic score. Using the "Mythoscope" process — a mix of modern and vintage techniques, the HPLHS has worked to create the most authentic and faithful screen adaptation of a Lovecraft story yet attempted.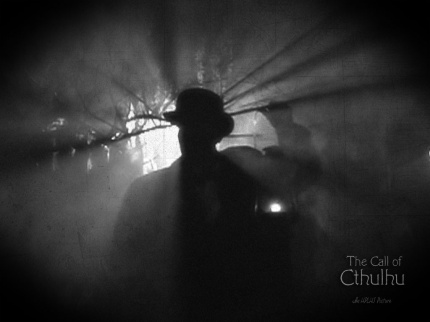 4 Parte
s/
4 Parts
Part1:
La_Llamada_de_Cthulhu_The_Call_of_Cthulhu V.O.S.E._.part1.rar
Part2:
La_Llamada_de_Cthulhu_The_Call_of_Cthulhu V.O.S.E._.part2.rar
Part3:
La_Llamada_de_Cthulhu_The_Call_of_Cthulhu V.O.S.E._.part3.rar
Part4:
La_Llamada_de_Cthulhu_The_Call_of_Cthulhu V.O.S.E._.part4.rar