IMELDA MAY #UK#

Genre: Jazzabilly ???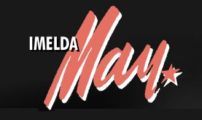 "Dublin's Finest Rockin' Diva!!"

Band Members : Steve Rushton - Drums / Al Gare - Double Bass / Darrel Higham - Guitar / Dave Priseman - Trumpet
Influences : Billie Holliday / Elvis Presley / Dionne Warwick / Gene Vincent / B.B. King / Eartha Kitt / Wynona Carr / Johnny Cash / Nina Simone / Aretha Franklin / Eddie Cochran / Ella Fitzgerald / Chet Baker / Luke Kelly / Tom Waits
Sounds Like : She's unique!!

Dublin-born Imelda May is fast becoming regarded by fans and critics alike as one of the finest vocalists currently emerging out of the UK roots music scene. She's a rockin' little minx; tough, sassy, sexy, classy. A big voice on a fine tiny frame.
She has performed for royal families, huge festivals for all types of music, pubs and clubs, national radio stations, and has performed all over the world. Imelda has carved out an extensive repertoire of cool covers and amazing self-penned songs. For a young woman she has all the musical experience of a veteran Rockabilly warrior.
She has made fans from a diverse a cross section of people as the late Kirsty McCall to Micheal Parkinson (who has played her on his BBC radio two show on several occasions). Imelda has shared the stage with Alison Moyet, Dionne Warwick, Bryan Ferry, Anastasia, The Supremes, Sister Sledge, Scissor Sisters, Matt Bianco, Elvis Costello, and Elton John.
Imelda is currently working on a new CD of original material with her talented new band of renowned musicians; Dean Beresford on Drums, Al Gare on Bass, and Danny McCormack on Piano, Darrel Higham on guitar, and Dave Priseman on trumpet. This total Bop-a-Billy blend of tradtastic Hepcats and kitten will be showcasing their new material at a major venue later this year.
Hold on whilst Imelda May is rockin'. It's quite a ride!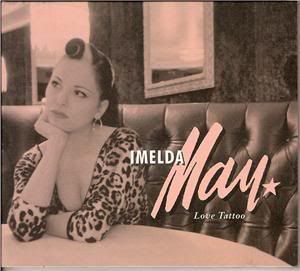 Imelda May - Love Tatoo -2007 [128kbps]
1. Big Bad Handsome Man (2:45)
2. Fallin In Love With You Again (4:09)
3. Feel Me (2:59)
4. Its Your Voodoo Workin' (3:14)
5. Johny Got A Boom Boom (3:01)
6. Knock 123 (5:29)
7. Love Tattoo (2:57)
8. Meet You At The Moon (2:49)
9. Smokers Song (2:39)
10. Smotherin' Me (2:44)
11. Watcha Gonna Do (3:42)
12. Wild About My Lovin' (3:17)
Imelda_May_-_Love_Tattoo_-2008.rar
http://www.imeldamay.com/
http://www.myspace.com/imeldamay1