OS CATALEPTICOS #Curitiba, Brazil#

Genre: Psychobilly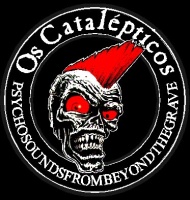 "PSYCHOBILLY IS ALL AROUND!"

Band Members : Vlad = Guitarist, Lead Singer, Gus = Upright Bass, Cox = Drums
Influences :
Sounds Like : Power Psychobilly!!!


Three brazilian maniacs formed Os Catalépticos in 1996, to make very fast and heavy Psychobilly, with a lot of Punk influences. Formed the band, after a few contacts they were playing in Europe at the 10th Big Rumble, in England. With the good participation they released by Fury Records their first CD, Little Bits Of Insanity.

In 1998 the band came back to England to play at the 11th Big Rumble. They released in Japan, by the label Revel Yell Music, the EP .From Beyond The Grave, in 2000. After, they set up with Crazy Love Records the release of their last CD, Zombification, in 2001. Before the release, they toured Europe, playing in Germany, Belgium, Holland, France and Spain. In Brazil they participate on the Psycho circuit, besides the local Punk and Streetpunk scene, organizing and playing in many festivals.

In 2002 they went to USA to tour and play at the festival Wreckers Ball. In 2003 they went to another europe tour and have played at the Calella Psycho Meeting in Spain, in the same year the american label Loveless beat Records have release the new EP "Psychopath Fever". In 2004 they are prepearing a new album to be release in 2005 with lots of insanity and fast mean psychobilly!
Os Catalepticos - Zombification
-2001
Terrible Nightmares

River Of Blood

Zombio

Hot Rod Funeral

My Damnation

Like In A Gasoline Tank

El Dia De Los Nuertos

The Cursed

Chainsaw And Blood

Freaks

Ever Loving Fingers

Rumble
Os_Catalepticos_-_Zombification.rar
http://www.myspace.com/oscatalepticos