ANTONIO FARGAS #Almería, Spain#

Genre: Punk'n'Roll




Band Members : Jesús Fargas, que además de gritar, toca la guitarra. . Chema Fargas, que utiliza una guitarra con tres cuerdas conectada a dos amplificadores, y canta. . Leonardo Manuel Fargas, que aporrea bombo, caja y plato, sin taburete. Canta algo.


Trío almeriense formado en 1998. En sus comienzos, se reducía a dos guitarras y un maniquí sosteniendo una caja de ritmos, que posteriremente dejó paso a un joven semibaterista.

Este trío recoge influencias del más básico Rock'N'Roll, desde los 50's hasta hoy, con especial predilección por los ritmos simples y machacones, y las estructuras clásicas. (tres acordes , un minuto). Este aspecto se refuerza en alguna composición, con la utilización de la caja de ritmos o el Casiotone como única base rítmica, unida a la ausencia de bajo.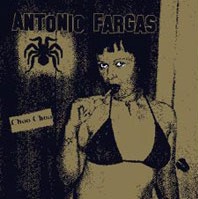 Antonio Fargas - Choo Choo
01 - mr grumpy biker boots
02 - bellas theme (i never drink wine)
03 - drinki'n valium eatin' beer
04 - i walked with a zombie
05 - (somebody else was sucking my dick) last night
06 - into the white
07 - it's ok
08 - amphetamine
http://rapidshare.com/files/105994034/Antonio_Fargas_-_Choo_Choo.rar

Primer trabajo de este Power Trio Almeriense fuertemente influenciado por Cramps, Gories, Pussy Galore, Stooges y toneladas y toneladas de 50´s RNR. Dos guitarras y semibateria que suenan como si Johnny Burnette, Ron Asheton y Poison Ivy se lo hicieran juntos. Un disco repleto de ODIO, RABIA, SEXO, VIOLENCIA y dosis inimaginables de lo que todos echamos en falta... ROCK AND ROLL. Un vinilo que hará historia, y si no tiempo al tiempo. En Japon los adoran, ¿a que esperas tu para unirte a la secta de los Fargas?.



Antonio Fargas - Bloody Mary 11º Aniversario (demo)
01 - Drinkin Valium Eatin Beer
02 - Hauntin Flies
03 - Algodon Girl
04 - S.N.O.B./ Hate Letters
05 - I Walked With A Zombie
06 - Evil Ruby
07 - My Little Sister´s Got A Motorbike
08 - It´s OK
09 - Amphetamine
http://rapidshare.com/files/105988226/Antonio_Fargas_-_Bloody_Mary__11__Aniversario.rar

RNR sucio, endiabladamente sucio. Canciones muy veloces que me recuerdan un poco a lo que fueron King Trash Fandango, y otras más calmadas de ambientes crampianos. Dos guitarras y semibatería. ¿Para qué más? Lo cierto es que es sólo eso: RNR. La esencia del RNR. Peligroso. No se puede decir más. Si no lo compras, eres idiota.

Con un directo-directo de sonido cavernario, hacen mover los pies a todo aquel que les escucha y les ve, con versiones de Suicide. Heartbreakers...., intercaladas con rockanroles propios y llenos de actitud. Tiene el gran honor de haber sido "teloneros" de monstruos como Ulan Bator Trío, Pussycats o Vincent Von Reverb.