THE HELL CAMINOS
#Honolulu, Hawaii -USA#

Genre: Psychobilly/Punkabilly/Surfbilly


Read my older entry about
The Hell Caminos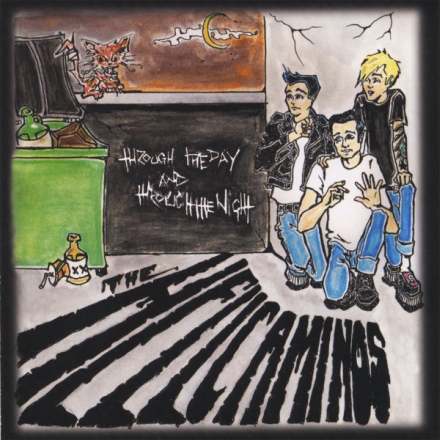 The Hell Caminos - Through The Day And Through The Night
-2005 [mp3 192kbps]
01 - Intro
02 - This Town
03 - My Baby
04 - Psycho Swing
05 - Terminal
06 - Through The Day And Through The N
07 - Gutterpunk
08 - Riding Solo
09 - Tattoos And Slick Shoes
10 - Hell Caminos

http://rapidshare.com/files/139639030/The_Hell_Caminos_-_Through_The_Day_And_Through_The_Night.rar
The Hell Caminos are a Psychobilly hailing from Honolulu, HI. Their debut CD "Through the Day And Through the Night" shows their extreme versatility. Easily moving from rockabilly into punk into swing, these three cats show you what it's like living on sleep-deprivation, caffeine, and women. Consisting of Michael Camino (upright bass), Nick Danger (guitar), and Handsome Jack (skins), they bring you into their world, full of voodoo roads, slinky dames, and cheap honkytonks.
The lyrics are astounding. Imaginative, Profound, Dark, all abound with the words these 3 guys use to convey their message. All 3 members sing, and each has a distinct vocal skill and style, which naturally fits the songs they choose. Their final song "Hell Caminos" adequately sum up what the scene is like in Honolulu.
Best known for their manic live shows, they embrace showmanship like no other. Their madness will burn a hole in the stage and a hole through your heart.
Catch them soon in a city near you!


http://www.myspace.com/thehellcaminos