SIOUXSIE & THE CREATURES
#UK#

Genre: Post-Punk



It's dark, it's barren, but yet, it's completely inviting.
Emphasizing layers of percussion and Siouxsie Sue's throaty vocals, the Creatures build on the sound created on previous albums. Though the band's reliance upon percussion leaves the majority of the tracks with a stripped-down, near minimalist feel, Anima Animus is anything but thin. With murky electronic melodies creeping behind the band's heavy beats paired with Siouxsie's distinctive siren call, the Creatures conjure up a musical landscape both intricate and enveloping and starkly chilling at the same time.
Fans of the Creature's primal rhythms will find much to latch onto with this album, with the heavy rolling beats of previous albums finding a home on Anima Animus, from the layers of tom-tom beats, sharp snare blasts and steels on "Disconnected" to the relentless tribal rhythms of "Turn It On" to the haunting backbeat of "Prettiest Thing." Masterfully arranged to provide both rhythm and lead on the majority of tracks Budgie's drums play as much of a role in creating the Creature's sound as Siouxsie's distinct voice.
Though not as prominent as the heavy percussion on this album, the Creatures also bring other elements into their music. Expanding the band's sound, electronic sounds take center stage on a couple tracks, "2nd Floor" and "Exterminating Angel," giving the band's sound a new direction. Matching the band's tone and songwriting, the Creatures' use of electronic elements hints at a powerful direction for the band.
Unsurprisingly, Siouxsie's voice serves as the focal point on Anima Animus, with her smoky tenor weaving a complex mix of desolation, hope and outright soul. Overdubbing harmonies and complex vocal harmonies, Siouxsie's voice serves both as a vehicle for standard lyrical delivery and also as a powerful instrument cranking out background melodies. From the throbbing background wails on "Turn It On" to the haunting delivery of "Exterminating Angel," Siouxsie's flair for vocal dramatics gives Anima Animus the perfect counterpoint to its heavy percussion.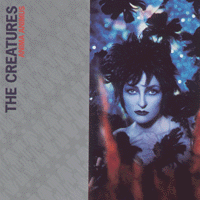 Siouxsie & The Creatures -
Anima Animus
-1999
1. 2nd Floor
2. Disconnected
3. Turn It On
4. Take Mine
5. Say
6. I Was Me
7. Prettiest Thing
8. Exterminating Angel
9. Another Planet
10. Don't Go To Sleep Without Me

http://rapidshare.com/files/90487926/The_Creatures__Siouxie_and_the_Banshees__-_Anima_Animus.rar
http://www.myspace.com/siouxsieandthecreatures