De nuevo otro seguidor del blog nos envia otra colaboracion, en este caso se trata de Torpedo Lucas quien nos acerca esta banda de florida y su 2º album , sencillamente impresionante!

Parece que esto se va animando y cada día sois más l@s que colaborais, os animo a que sigais haciendolo y entre tod@s conseguiremos que este se convierta en un gran blog

Again another reader of blog sends us another collaboration, in this case is Torpedo Lucas us about this band from florida and his 2-fifth album, simply amazing!

It seems that this will encourage every day and you are more colaborators which I'm encouraging you to do and continue among all get this becomes a great blog

THE VAN ORSDELS
#Swamp-filled Wastelands of South Florida, Florida , USA#


Genre: Psychobilly/Punkabilly



"South Florida's sick sons of Psychobilly!"
Band Members
:
Richard Robinson (aka Hoggin' Dick Van Orsdel) - drums (2004-present)
Patrick LeJeune (aka The Abominable Dr. Butch Van Orsdel) - guitars (2007-present)
Steve Satch (aka Steve "Satch" Van Orsdel) - upright bass (2008-present)
Bruno Esposito (aka Bruno "The Butcher" Van Orsdel) - upright bass (2003-2006)
Todd V.W. (aka Todd Von Wankenstein Van Orsdel) - guitars (2002-2005)
David Carbonell (aka Ichabod Van Orsdel) - drums (2003, 2007)
Influences
: Nekromantix, Koffin Kats, Mad Sin, Godless Wicked Creeps, The Misfits, Social Distortion, Legendary Shack Shakers, The Meteors, The Cramps, Os Catalepticos, Johnny Cash, Charlie Feathers, Demented Are Go, TSOL, The Damned, Hola Ghost, Hank Williams Sr., The Ghastly Ones, 45 Grave, Elvis, The Quakes, Tiger Army, Stray Cats, and many more!
The Van Ordsels are a psychobilly band based in Miami, Florida, USA. The band formed in 2003. They have the distinction of being the first psychobilly band in south Florida. They helped introduce and expose the genre to the south Florida music scene. With their unique blend of psychobilly, punk rock, surf music and heavy metal,combined with elements from old B-horror and sci-fi movies, and images of monsters, zombies and creatures from beyond, they have managed to create a sound all their own.

In 2002, founding member and vocalist George Graquitena was in the process of organizing a show, a one-off Misfits tribute band, to play a Halloween show in October 2002. He eventually met up with guitarist Todd Von Wankenstein and drummer David Carbonell. Along with a friend, Brian, who was the bassist for a local Miami band named Underpaid, they formed The Braineaters, a Misfits tribute band that played on October 28, 2002. After the show was done, George, Todd and David decided they wanted to continue playing together, but they wanted to do something original. George had already been hoping to start a psychobilly band, so the members decided that would be a good idea. They all had shared interest in the genre, as well as a love for horror movies. George and Todd eventually decided on a name for the band after kicking around a few ideas. They decided to name the band The Van Orsdels, and they also decided to adopt the last name of Van Orsdel, in tribute to The Ramones, and also as a sign of unity within the band. They then began their search for an upright bassist, which would prove to be hard. The genre was non-existent in the south Florida area, and musicians who were willing to play psychobilly were just as non-existent. Eventually they found bassist Bruno Esposito. The band was now complete and they immediately began writing songs and preparing for their first show.
In 2007, The Van Orsdels saw a major face-lift in the form of new members. Patrick LeJeune joined the band as the new guitarist in early 2007. Patrick (aka The Abominable Dr. Butch Van Orsdel) had previously been a member of a South Florida surf instrumental band called The Cavefish. He joined The Van Orsdels in early 2007. Original drummer David Carbonell re-joined the band in early 2007 as well, after drummer Richard Robinson decided to take a break from the band to focus on his personal life. The band released an EP titled "Leftovers" in October of 2007. The cd contained a collection of previously unreleased tracks and demos, as well as some acoustic songs. October also saw the return of Richard Robinson on drums. March 2008 saw the inclusion of Steve Satch (aka Steve "The Bruiser" Van Orsdel) on upright bass. With this new line-up the band has begun work on new material which will be included on their upcoming full-length CD release. The band will also be recording a version of "You're a mean one, Mr. Grinch" for an upcoming psychobilly Christmas compilation album which will be released on Cleopatra Records in December of 2008.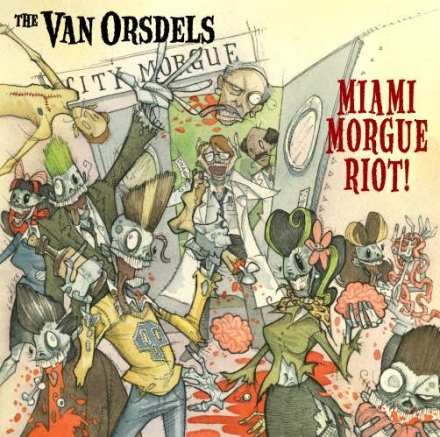 The Van Orsdels - Miami Morgue Riot
-2005 [mp3 192kbps]
TVO Go! / Dancing Devils / Little Zombie Girl / Miami Morgue Riot / Your Cheatin Heart (Won't Beat For Long) / 666 / Three More Bullets / Evil / Wreckage / Dead Can't Say No / Hey Hey / Dead Of Night / Coming For You.
http://rapidshare.com/files/139810392/The_Van_Orsdels_-_Miami_Morgue_Riot_-2005.rar
The Van Orsdels:
Hard & Fast Psychobilly from Florida, U.S.A. straight outta the swamps of south hell, the unholy union of psychobilly, surf and punk performed by lower-class, multi-ethnic zombies with some goddamned shiny hair!
http://www.thevanorsdels.com/
http://www.myspace.com/thevanorsdels