GREEN MONSTER #Prague, Czech Republic#

Genre: Psychobilly/Punkabilly




"Rockahellapunkandpsychobilly!"

Band Members : "Cosmo" Kosmák - guitar, lead vocals, "Punker" Tomas - double bass, bvox, Vráta - drums, bvox
Influences : The Green Lord.



The story about Green Monster starts around the turn of the century when the Cosmos old band formation Los Banditos broke up because things werent working out- there were bad feelings all around between the members. I thought it was hopeless. But one night after couple of drinks Cosmo asked me to play with him on the doublebass. The next few months was a real trial; we were without a good rockin' drummer, without a band practice room, and everything moved along very, very slowly for the band. But now we are complete, with about 30 songs on the rack, and we are ready to raise hell in psychobilly Europe...
Our first and only CD out at the moment is 100.000 Punkrockers in the Green Valley, released in March 2003. All song lyrics/rhythmic and melodies are made by "COSMO" hand supported by other stuff from a band. Yes and if we talking about members... here we are:
Radim COSMO Kosmák (guitar, lead vocal)
Tomas PUNKER no name (slapbass, back vocal)
Vráa PALDA-SLÁVA jnr. (drums, back vocal)

On the CD are also special guests like Kokrhell + Klarissa/b.vox. and miss BabyBat our Taiwan princess on the violin... The CDs got eight songs and has 'bout half an hour of mad-rockin' psychobilly music. Also we working on a new album for 2004 which will contain a short movie clip.
-Tomas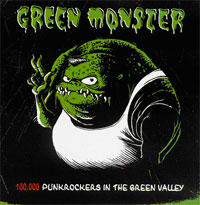 Green Monster-100.000 Punkrockers in the Green Valley
-2003 [mp3 -160kbps]
01-Intro
02-Mystery
03-Zombie party rock
04-Dr. Jeckyl & Mr. Hyde
05-Brain storm
06-Johnny Hole
07-Devil in rock & roll
08-Death match race
09-Vampires in the city

http://rapidshare.com/files/90465294/Green_Monster_-_100.000_Punkrockers_in_the_Green_Valley.rar
http://www.myspace.com/greenmonsterband