VULTURE CLUB #Tampere -Finland#

Genre: Punkabilly / Psychobilly



"With birds of prey you´re never alone.."

Older entry of Vulture Club


Batattackmagazine.com
"Desde Tampere (Finlandia) llega esta banda que rezuma a Nekromantix por todos lados, desde la voz hasta los frenéticos ritmos de contrabajo, por momentos recuerdan a esos primeros Nekromantix mas frescos que lo que nos tienen acostumbrados ultimamente. El trabajo está compuesto por trece temas sin desperdicio. El disco abre con "Wedding" un temazo a medio tiempo con un gran trabajo en la linea del contrabajo y los coros, la voz recuerda mucho a Kim Nekroman, le sigue "Darkling" otro medio tiempo nekromantizado, "Zombie Bob" ya nos muestra que a parte de los temas mas lentos, pueden darle potencia y volverse locos con la misma facilidad que relentizan los ritmos. "Full moon blues" es un tema perfecto para corear, se te queda permanente en la oreja y es dificil separarse de el, "About a girl" es un tema corto directo y conciso, "Flavour of the week" es un tema que perfectamente podian haber firmado Mad Sin, "Monster" vuelta al sonido Nekromantix, "Dead girl" es un buen tema para terminar el disco, un tema a medio camino entre la velocidad y la sobriedad. En fin un gran disco para fans de los sonidos mas duros. para escuchar algun tema y comprar el disco "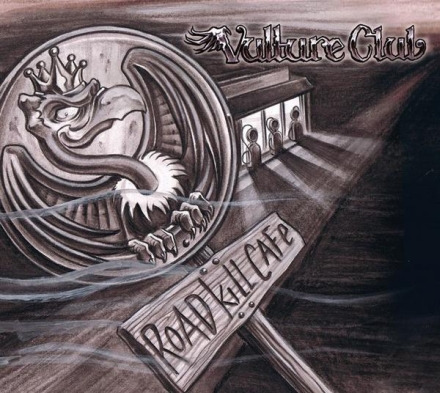 Vulture Club - Roadkill Cafe -2008 [mp3 256kbps]
01 Wedding
02 Darkling
03 Zombie Bob
04 Song For Jenna
05 Pale White Rose
06 Full Moon Blues
07 About A Girl
08 Last Minute Warning
09 It's The Attitude
10 Flavour Of The Week
11 Monster
12 Momentum
13 Dead Girl
http://rapidshare.com/files/103061043/Vulture_Club_-_Roadkill_Cafe_-2008.rar

http://www.vultureclub.net/
http://www.myspace.com/vulturec