GRAVEYARD SHIFT #Seattle,Washington -USA#

Genre: Psychobilly





Band Members : Chainsaw Chad - Guitar, Nicky Nightmare - Doublebass, Murder Mike - vocals, Jay L. Bait - Drums
Influences : Nekromantix, Los Gatos Locos, Demented Are Go, Godless Wicked Creeps, Os Catelepticos, Mad Sin, Slapping Suspenders, The Klingonz, Guana Batz, King Kurt, Screamin' Jay Hawkins, The Germs, Bad Brains, fuck... alot.

Graveyard Shift formed in the summer of 2001 in a basement in the suburbs of Seattle, WA initially to re-kindle the ashes of a dying scene left by bands such as Los Gatos Locos, and The Spectres.They began writing dark rock and roll and tales of horror. Little did they know the path it would lead them. Nicky Nightmare (drums), Ben Grimm (bass), and Murder Mike (Vocals), who were friends from previous bands, began searching for a unique guitar sound. They found none other than guitarist Chainsaw Chad, whose eerie licks would bring their sound to a whole darker level. Graveyard Shift left Seattle for a series of tours starting out with the first annual West Coast Wreckers Ball at the Galaxy Theater in Orange County and immediately gained the respect of their peers in the throbbing vein of the North American Psychobilly scene in Los Angeles, CA. Playing shows with great international psychobilly acts as Mad Sin, Demented Are Go, Os Catelepticos, and many more. The bands first official west coast tour left them with a hunger and drive for more touring. With an extensive list of bands under his belt, Geoff Kresge, currently a guitarist for the Hellcat records recording artists, The Horrorpops, whom at that time was the bassist for the nationally acclaimed psychobilly band, Tiger Army, and who played for written and produced music for well known amazing bands as AFI, The Daggers, and Blanks 77 took a serious interest in Graveyard Shifts sound, and requested to produce their record. The combination of GYSs amazingly dark sound, Kresges musical mastermind, and Paul Miner as the engineer was magic.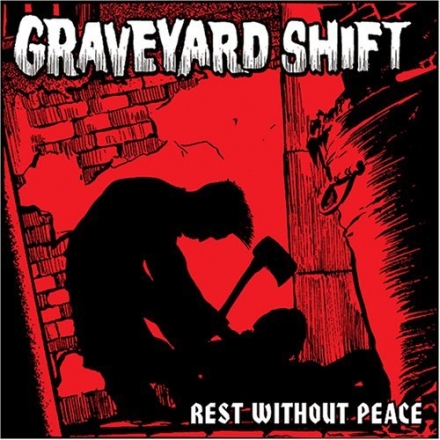 Graveyard Shift - Rest Without Peace -2005 [mp3 192kbps]
1. Intro
2. Welcome To The Neighborhood
3. Decapitate You
4. Kill Again
5. Rest Without Peace
6. You Fucked Up Now
7. Bloodstains
8. Coffin Cadillac
9. The Misery Of War
10. I Need You
11. Die
12. Virgin Blood
13. The End Of The World
14. The Waltz Of The Wisconsin Woman-Skinner
http://rapidshare.com/files/102655958/Graveyard_Shift_-_Rest_Without_Peace_-2005.rar


http://www.myspace.com/graveyardshift