JESUS RACER ROCK AND ROLL TRIO
#Malaga, Spain#

Genre: Punk'n'Roll/Punkabilly

Band Members : Jesus y juan
Influences : The Cramps, los Gories, los grupos de Crypt Records, el punk, Gun Club, Desechables, Pussy Galore y mil más...
Sounds Like : este grupo tiene un sonido muy particular, como unos Guitar Wolf sin bajo y a mil revoluciones más, como un ataque aéreo sobre Graceland, como si el roundhouse de Londres con los Vibrators tocando sufriera el ataque de Godzilla con Nietzsche con sombrero tejano cabalgándolo

De las cenizas de dos grandes bandas del Sur, Antonio Fargas y Thee Intoxicated man, surge esta particular banda, que se hace llamar Jesús Racer Rock and Roll Trio, trío eso sí de dos personas... Os podemos contar sobre esta banda, que tiene una Demo que ha dado bastante que hablar. Aquí en Calzada News nos sorprendió, ya que transmitía una especie de urgencia en la grabación, una sencillez que a la vez puede ser difícil de explicar y un resultado realmente magnífico...

Los Jesus Racer Rock´n'Roll Trio son, pese a su nombre, un dúo formado por Jesús (guitarra y voz), que empuña una preciosa Epiphone color celeste-Chevrolet-Bel-Air, y Juan (semibatería y voz), que prefiere tocar de pie a vivir de rodillas, con un par.
Sul sonido es Punk-Rock con una marcadísima influencia Psychobilly que llega a recordar en ocasiones a los Demented Are Go. Cuando canta Jesús suenan a Cramps y cuando lo hace Juan suenan a Ramones. Con tales referencias, imposible oponer resistencia. Estupendos. ¿Quién quiere más instrumentos cuando con una guitarra y una semibatería se puede meter tanta caña?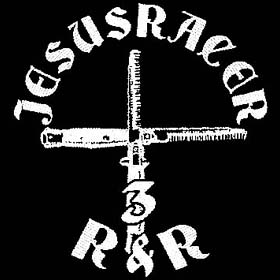 Jesus Racer Rock And Roll Trio - Demo [mp3-192kbps]
01 - teardrops on fire
02 - you don't love me yet
03 - livingdying
04 - black top fucker
05 - what goes on
http://rapidshare.com/files/90548891/Jesus_Racer_Rock_And_Roll_Trio_-_Demo.rar

Mail: jesusracer@yahoo.es